Prostate cancer cure without surgery and without radiation therapy, only in one day, via FOCAL ONE – robotic HIFU.
Maintain prostate, normal sexual and urinary function!!
FOCAL ONE – robotic HIFU is the most accurate, robotic method of non-surgical, traditional radiation-free treatment for prostate cancer, the technology which does not affect the surrounding tissue and other organs. Destroys prostate cancer by delivering accurate and focused ultrasound waves to prostate diseased tissue in a specific area of ​​the prostate. Uses ultrasonic energy and not radioactive irradiation.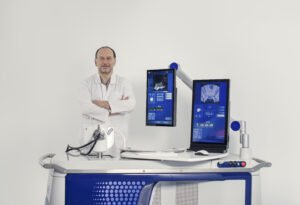 The advantages of treating localized prostate cancer with Focal One HIFU are:
Incision free (non-invasive)
No risks of surgery
No radioactive irradiation
No changes in lifestyle
Lowest risks of erectile dysfunction and incontinence
No need for hospitalization
Accurate targeting on diseased prostate tissue
Robotic acquisition
Healthy tissue remains intact
Most recent robotic device FOCAL ONE (EDAP TMS), is a novelty worldwide; it was approved by the US Food and Drug Administration (FDA) in 2018. The leading US medical centers like Cleveland Clinic and University of California purchased the device at the end of 2020.
Professor Guram Karazanashvili's Urology Hub, considering the increased referral and interest of patients living outside of Georgia, offers the most comfortable packages for the FOCAL ONE HIFU treatment procedure:
Economy package – includes Focal One HIFU treatment procedure
Standard package – Focal One HIFU treatment procedure and transportation in both directions (in Georgia and back)
Full package – Focal One HIFU treatment procedure, two-way transportation, hotel accommodation, meals, excursion to explore the main sights of the country.
An online consultation is required before purchasing the packages.
Contact us for detailed information or to book a consultation
+995 0322 23 40 23;  hospitalmmt@gmail.com
MMT Hospital – a global leader in the early detection and treatment of prostate cancer, is an advanced medical facility that is constantly introducing and developing modern technologies for the benefit of patients.